Description
Haven On Holland
Exclusive access to the full services of MY HOLIDAY CONCIERGE – making holidays easy!
All bookings include a Welcome Gift on arrival and complimentary beach towels*
Haven On Holland – This stunning home has been designed with supreme luxury in mind with a myriad of options for guests. The home is ideally situated in a sought after position of Broadbeach Waters and has everything you need to relax for all your holiday needs with family, friends or perfect for business or corporate retreats. With 7 large bedrooms and 5 designer bathrooms, multiple indoor and outdoor spaces there is no end to the luxuriousness and options that this home has to offer.
The oversized poolside alfresco area has an inbuilt BBQ overlooking the crystal blue pool and deck, quiet waterfront and lush grass area.
Features Include:
7 Bedrooms
5 Bathrooms
Gourmet Kitchen with open plan and butlers pantry, wine room and views to the outdoor dining with built in BBQ.
Large Private Fenced front yard with GIANT Chess Set perfect for kids and families
Pool and outdoor shower
Outdoor Undercover Area – with BBQ (Pizza Oven not in use)
Spacious Multiple Living Areas
Fully Air-Conditioned for your comfort (and fans)
Jetty to boat, kayak or fish from
Games room with Pool Table
Private Cinema Room
Living, Kitchen & Outdoor Entertaining
This home optimises the concept of indoor/outdoor living. The stylish open plan kitchen with butlers pantry and wine room looking over the lounge and dining area is almost doubled when you open up the sliding stacked doors onto the undercover outdoor area with built in BBQ and lounges. All of this looks over the manicured lawn, pool area and deck and quiet waterfront. There is also a sunken grass area to relax on and take in the water views up close and if you want to escape all of this you can retreat to the sun drenched upper living area to read a book or watch TV.
Bedrooms
The two master suites with super king beds have stylish designed ensuites both with separate bath tubs and showers, walk in wardrobes and views out to the water. There are four other bedrooms on the top floor and one on the ground floor.
Bedding Configuration – Sleeps 14
Bedroom 1 King with Water Views, Ensuite (Master 1)
Bedroom 2 King with Water View, Ensuite, Walk in Robe (Master 2)
Bedroom 3 King (or 2 Long Singles) with Ensuite
Bedroom 4 Set of Single Bunks (Great for Kids)
Bedroom 5 King (or 2 Long Singles)
Bedroom 6 King (or 2 Long Singles)
Bedroom 7 Queen
NB where options available beds will be made up as Kings unless otherwise advised by guest.
Bed Splitting $10 per room if required.
Outdoor & For Kids
There are a number of options at this house for the kids to enjoy, they can swim all day long in the pool, they can run around on the grass in either the private fenced front yard or the grassed area looking overlooking the water, they can try their hand at GIANT chess, have a game of pool or simply lay back in the cinema room watching their favourite movie.
Facilities
The seven spacious bedrooms and five bathrooms multiple indoor/outdoor living spaces ensures there is ample room for everyone whether you be a group of friends, colleagues or families holidaying together.
There is off street parking for four cars on the property.
Air Conditioning
Fans
Swimming Pool
Non Smoking
iPod Dock
Washing Machine
Clothes Dryer
Ironing Facilities
BBQ
Microwave Oven
Dishwasher
Refrigerator
Full Cooking Facilities
Linen Supplied

Hair Dryer
Nespresso Coffee Machine
Off-street parking
Entertainment Room with pool table
Jetty and Sandy Beach
Additional Services Available (charges apply)
Groceries and Drinks for your arrival
Portacots, Highchairs & Strollers (plus extras)
Beach Towels
Housekeeping & Concierge Service
Catering Available
In-house Massages and Beauty Treatments
Babysitting
Location
This home is situated in a premier location only 15 minutes walk to Broadbeach and all it has to offer with restaurants, shops, beach, casino etc. The new G line light rail service is also only a 12 minute walk away. Surfers Paradise and Broadbeach are well known as the best locations to holiday on the Gold Coast. With the fantastic restaurants and cafes, shopping, nightlife, Casino and Convention centre and of course our beautiful beaches it is the perfect holiday destination. The home is central to all the Gold Coast has to offer.
The beauty of the hinterland and rain forests are just a short drive away
Numerous Championship golf courses are within a ten minute drive
Theme Parks are a 20 minute drive
Coolangatta Airport is a 35 minute drive and Brisbane a 60 minute drive
Central to all local attractions.
If this home does not suit your requirements then talk to us as we have many properties available. Please do not hesitate to contact us to discuss any aspect of your stay.
Concierge
Quality Service – Visit My Holiday Concierge for all your needs – making holidays easy!
We will do all we can to ensure that your stay with us is special.  Our team is committed to providing excellent service from the moment you make your enquiry through to the end of your holiday and then onto the booking of your next one!  Please do not hesitate to ask if you have any queries.
With all our properties you will be personally met and given a tour of the property.  We are available to answer any questions you may have and as locals we can advise you of the best destinations to visit on the Gold Coast.
We are able to assist you with all the activities that are listed and more so let us know what it is you would like to do on your holiday and we can take care of all the arrangements for you.  Let us take the stress out of organising your getaway in one of our wonderful Gold Coast holiday homes. Our main service requests are:
Groceries, Drinks and Hampers
Have your pantry stocked and the drinks chilled prior to your arrival.  You choose what you want and we have it all packed away for you.
Looking for a Welcome Hamper, Breakfast Hamper or Weekend Essentials?  Take a look at what we have available at My Holiday Concierge.
Hire Items
We can arrange to hire almost anything you need for your stay and in particular the following:
Everything for Baby
Beach Towels and Shades
Kayaks
Bikes & Sporting Equipment
Childrens' Packs
Theme Park Tickets and Tours
We take the hassle out of organising your tickets.  Get special deals and advice on the best Theme Parks and tours for your group.
We offer you the best boat cruises, golf deals and tours to explore the Hinterland Rainforests and Byron Bay.  Looking for a winery or brewery tour or a night out at a show then visit My Holiday Concierge.
Transfers, Car Hire and Tours

Transfers to and from the Airports and Theme Parks
Car Hire – Available for all requirements big or small
Luxury Transfers – take your mind off how to get there and relax and enjoy the luxury drive from the airport to your accommodation.
Happy Kids and Local Knowledge
We have everything you need to keep the kids happy and make holidays easy and as we all know Local Knowledge goes a long way wherever you are so we are here to help. Check out our
Toy Hire & Kids Packages
Tours just for Kids
Wet Weather Ideas
Child Friendly Restaurants
Local Parks
Babysitting
Personal Chef Available On Request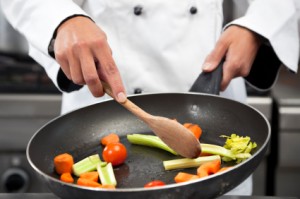 Personal Chef available on request to cater to whatever you desire from poolside BBQs to 5 star cuisine. Some occasions just call for that "something special", whether it is a birthday or an anniversary or perhaps just celebrating the fact you are on holidays.  Our Personal Chefs can do all the hard work for you by providing trained and experienced staff to come in and prepare and serve just about any meal your heart desires. This is where you can use your imagination and we encourage your input into preparing a menu that is specific to your every need.  It can be as basic as a BBQ through to five star dining.
Special Celebrations
Whether it is a Birthday, Special Celebration, Anniversary or just something different we are here to help.  We can arrange everything you need to make the time a memorable one.
Massage and Beauty Treatments
Choose from a large selection of Massage and Beauty Treatments that are done in House or if you prefer a full day at the Day Spa we have the perfect options for you. Choose from a variety of options or tailor to your needs.
Rates
All rates include cleaning, linen and booking fee. 8 beach towels are provided for your use during your stay*. Additional beach towels can be hired on request.
Pricing based on a minimum 4 night stay.
Prices listed based on 8 adults. Additional guests are $30 per person per night.
Property has 12 beds and can sleep a maximum 14 people.
If beds are to be split there is an additional charge of $10 per room.
Refundable Security Bond: $1000 – done as Pre Authorisation on Credit Card
We have discounts for Long Stays too.
Rates for Special Deals are calculated at the discretion of management.
The property is not a 'party house' and these activities are strictly prohibited. By relevant Gold Coast laws these prohibited activities are defined as 'parties, including, for example, bucks nights, hens nights, raves, wedding receptions or similar parties.' No guests or visitors have permission to enter, remain or engage in any such prohibited activities at the property. Minimum age to hire the property must be 24 years or older.
Floor Plan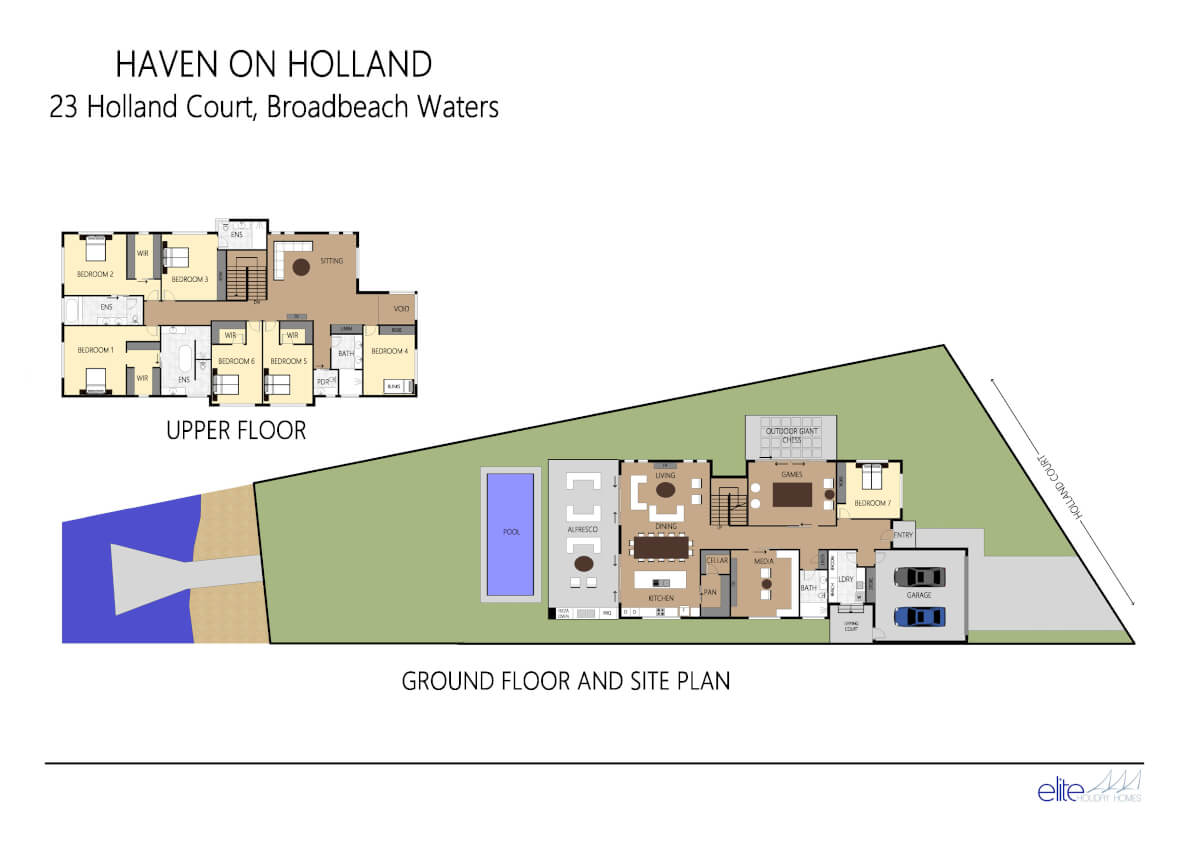 Terms & Conditions
Taymatt P/L ATF The Jeffery Family Trust T/A Elite Holiday Homes is a Licensed Real Estate that only accepts payments into our Australian dollar Trust Account – your money is held in Trust until your stay.  We abide by all legal requirements, local government and industry guidelines in the operation of our business.  We are a member of Destination Gold Coast and ARAMA.
The property is not a 'party house' and these activities are strictly prohibited. By relevant Gold Coast laws these prohibited activities are defined as 'parties, including, for example, bucks nights, hens nights, raves, wedding receptions or similar parties.' No guests or visitors have permission to enter, remain or engage in any such prohibited activities at the property or engage in anti-social behaviour including ignoring curfews and/or excessive noise and any person purporting to act in contravention of this restriction does so as a trespasser rather than as a guest or permitted visitor at the property.  We are not able to accept Schoolie Bookings at our properties.  If you misrepresent your booking and/or do not comply with our Terms and Conditions we reserve the right to evict and retain all monies paid including the Security Bond. Minimum age to hire the property must be 24 years or older.
Holiday Houses on the Gold Coast are subject to strict Council and State Government guidelines which all homes should adhere to and as such Elite Holiday Homes have a zero tolerance policy for those not adhering to the Terms and Conditions of the stay.  We have a security firm who will promptly respond to any calls from neighbouring residents in relation to these issues. Our owners are subject to strict conditions and fines including restriction of business – by agreeing to our Terms and Conditions you agree to abide by these rules and conditions and if these are not adhered to and adversely affects our owners they reserve the right to take legal action and seek compensation.  Guests indemnify and shall keep indemnified Elite Holiday Homes and the owner against all loss, damage, expenses and penalties howsoever caused or incurred as a result of breach of these Terms and Conditions.
Conditions for Special Deals, Gift Vouchers & Return Guest Discounts
Bookings will be subject to availability and must comply with Terms and Conditions of our stays.
Special Deals and/or promotions cannot be used in conjunction with any other special or discounted offer.
Pricing subject to management discretion on rate periods & inclusions.  Exclusions may apply for some School Holiday periods and Standard Rates may apply for Stay and Pay deals.
All Gift Vouchers must comply with the Terms and Conditions of the Gift Voucher and all bookings using the Gift Voucher must comply with the Terms and Conditions of our stays. Our General Gift Vouchers (unless otherwise stated) can be redeemed on any property and the amount of the Gift Voucher will be allocated as payment towards your booking.  The Gift Voucher number must be quoted and presented for redemption.  The Gift Voucher must be allocated to a booking within 12 months of the issue date – note the booking can be further in advance of 12 months but the Gift Voucher must be allocated within the 12 month time frame.  If a booking has not been made and the Gift Voucher not allocated to a booking after 12 months then the Gift Voucher becomes invalid and is cancelled.  No refunds will be given for Gift Vouchers not allocated within 12 months and the Gift Voucher is not redeemable for cash.
Definitions
Booking means the period for which you have paid to stay at the Property.
Property means the home you have booked as per your confirmation notice and all its fixtures, fittings and equipment.
Management means the owners and managers of the Property.
Deposit means the non refundable deposit you pay to secure the booking – this is advised in writing to you and includes a service fee of $200.
Guests means the persons who stay overnight in the Property during the Booking.  Full guest names and contact telephone numbers must be provided via the Guest Registration Form prior to arrival.
Visitor means a person a Guest permits to visit the Property during the Booking.
Security Bond means the bond you pay to cover any damages or costs that may occur during your stay.  Providing there are no damages or costs this is refunded after your stay. The details you provide may also be used to cover any additional costs that exceed the bond limit.
Acceptance & Responsibility
Once your booking is made you will receive a Booking Request email from us with the details on how to process your payment. Your booking is not confirmed until payment is received by us.  Receipt of your payment confirms that you have read and agreed to our Terms and Conditions herein.
The person whose name is on the booking must be staying at the property. This person is responsible for the booking with us and ensuring all guests and visitors are aware of the Terms and Conditions and House Rules. All guests staying at the property must be nominated on the Guest Registration Form.
Identification and credit card details will need to be provided when you complete your Guest Registration Form.  Your credit card details are taken to cover any purchases from the mini bar. A credit card Pre-Authorisation is taken for the Security Bond 24 hours before your arrival.  Access Codes and instructions for entry to the property will not be provided without a valid Pre-Authorisation and guest identification.
The guests warrant this is for holiday purposes and indemnifies the Management for any other form of use.
We recommend that all guests have travel insurance for their holiday.
Note: variances may be agreed on but only by arrangement with the Owner/Management in writing.
Payment
A non-refundable deposit of $1000 (or deposit as advised to you in writing) is required to secure the booking within 2 days of the Booking Request Confirmation email. Bookings are not confirmed unless and until this deposit is received.
Payment of the booking deposit constitutes the clients acceptance of these Terms and Conditions.
The balance of the booking amount must be received in full 30 days prior to occupancy.  If a credit card is held on file then the balance monies will be deducted from the credit card.  If the full balance is not received Management has the right to cancel the booking and attempt to re let the property.
Payments of the amount due must be received in Australian dollars net of any bank or other transaction charges.
We accept payment by the following methods: Visa, MasterCard or direct deposit into our Australian Bank (Commonwealth Bank) Trust Account.
A credit card surcharge of 2.2% will be levied to cover transaction costs associated with credit card payments.
Refundable Security Bond
A valid credit card must be used with your Bond Authorisation Form for a $1000 Pre Authorisation for the Security Bond.  This will be held for the duration of your stay and returned to the credit card used once the property has been checked. We cannot provide access to the property without this Pre Authorisation being processed.
Any damage, loss or expense incurred by Management as a result of your breach of these Terms & Conditions will be charged against the Security Bond.  Examples of this include but are not limited to any breakage, damage or excess cleaning requirements, extra guests beyond those declared, misrepresentation of your stay and security call outs. If a deduction is to be made due to any of the above an administration fee of between $50 and $100 will also be charged to cover arranging for replacement or repair of each item/issue.
By completing and accepting the terms on the Guest Registration you agree and authorise us to debit the credit card provided for any expenses incurred during your stay including any mini bar expenses including any damages/costs that exceed the Security Bond limit.
Any additional charges incurred will be deducted from the Security Bond.
Variations & Cancellations
If you wish to vary or cancel your booking, please advise us immediately on ph +61 7 5592 3881 and confirm in writing. Management is not obliged to accept any variations to the booking if they are adversely affected by the request and Management retains the right to treat all Cancellations and Variations at their discretion.
Your deposit is non-refundable in the event of a cancellation or unpaid balance.  Your non-refundable deposit includes the service fee of $200.
If the full balance has been paid and cancellation is made within 30 days of the stay at the request of the guest, the full amount paid is not refundable unless the house is re-let for the entire period at the same tariff.  If a refund is made due to the property being relet at the same value and for the same dates then we will prodive you with a refund less a $200 booking and service fee. If the property is partly relet or at a lesser value we will provide you with a part refund thereof less a $200 booking and service fee. If the property is not relet, there will be no refund issued.
We recommend that all guests have travel insurance for their holiday regardless of where they are travelling from.
Unavailability & Unforeseen Circumstances
The owners will make every effort to ensure the property is available as booked. However, the owners reserve the right to make alterations to the booking due to unforeseen circumstances and/or allow tradesmen to have access to the property to facilitate any repairs if necessary.   If the Property becomes unavailable for your occupancy due to unforeseen circumstances then Management will inform you immediately and endeavor to obtain suitable alternative accommodation for your occupancy; failing which any monies paid will be refunded in full.
We cannot be held responsible for any unforeseen breakdowns of appliances etc.  Elite Holiday Homes maintain our properties to the highest standard however at times unforeseen issues can occur. All repairs will be carried out or replacements purchased at the earliest convenience. Every action will be taken by our staff to minimize inconvenience caused; however there is no obligation from Elite Holiday Homes to issue any partial refunds or discounts if the issue was unavoidable.
Elite Holiday Homes has no control over any construction or renovation work at neighbouring properties.  In a busy metropolitan city there is always some type of construction work occurring somewhere in the neighbourhood.  We cannot provide any refunds due to this activity.
Check in & Departure
Check-in time is from 3.00pm on the arrival date and check out time is not later than 10.00am on departure date to allow time for the property to be prepared for the next guests.
You must notify Management of expected arrival time and a mobile contact number at least 14 days before arrival.
Arrangements will be made to access the property.
Failure to depart at the agreed time may result in an additional charge of $50 per half hour. Variance to these times is subject to prior arrangement and availability and extra charges may apply.
It is your responsibility to secure the property and lock all doors and windows and leave the key in the secure Key Box on departure.
Parties, Functions & Commercial Activities
Please note our properties are not available for rent for Bucks or Hens groups and parties cannot be held at the properties.
We do not accept Schoolies. Minimum age to hire the property must be 24 years or older.
Photographs and videos may not be taken at the property to be used for Commercial or Advertising purposes or for financial gain or benefit without the written consent of the Manager or Owner.
Non-adherence to this policy may result in termination of rental and loss of monies paid including your Security Bond and we reserve the right to take further legal action.
Disturbance & Antisocial Behaviour
In accordance with Gold Coast City Council and Holiday Rental Industry guidelines disturbance to the neighbours, including excessive noise and anti social behaviour is prohibited and may result in termination of rental and loss of all monies paid.
As per Council and Holiday Rental Industry Guidelines there is a 10.00pm to 8.00am outside noise curfew. We require you to move inside and close the doors. Noise must be kept to a minimum.
We also request that for the neighbours privacy and safety you only utilise the beach area/jetty (if applicable) in front of the property.  A Security Service has been engaged that will respond to any complaints from neighbours regarding anti social and offensive behaviour, breaking of curfew and excessive noise.  Strippers, topless waitresses and associated industries are not permitted under any circumstances. No outdoor nudity under any circumstances.
Security have been given authority to video record call-outs.  If Security is called out to the property you will be charged for the call-out fee and we reserve the right to either issue a reminder warning of the Terms and Conditions or terminate your booking.  All call-outs will be deducted from your security bond.  If your booking is terminated we reserve the right to retain all monies paid including your Security Bond.
Hire Equipment
Hire Equipment can be hired through My Holiday Concierge.  If another hire company is used then delivery and pickup of the items can only occur during your stay.  You accept full responsibility for acceptance and return of the equipment when hired through a third party.
House Rules
House rules must be complied with along with any instructions from Management and their caretakers of the Property including Security concerning occupancy, property, health and safety and quiet enjoyment of the Property and the neighbours amenity.
Keys and remotes are your responsibility during your stay.
Number of guests should not exceed the number stated on the Booking Confirmation and Guest Registration Form or subsequently agreed in writing/email. Fees will apply for excess guests not agreed with the Management in advance.   Any misrepresentation regarding guests or intention of your stay may result in eviction and loss of monies paid.  Visitors may visit you at the home but may not remain on the property overnight.  Visitor numbers should not exceed 10 at any given time unless by prior written arrangement.  All Visitors must comply with the Terms and Conditions and House Rules.
Pets are not allowed under most circumstances and if permission is granted it must be in writing.
Smoking is not permitted inside the house at any time.
Parking of cars must be in accordance with Council regulations.
Caution must be taken on all tile areas, wooden floors and outdoor areas as they may be slippery when wet.
On departure the property should be vacated on time and secured. All food must be removed from fridges, all rubbish put in the appropriate recycle (yellow) and waste (green) council rubbish bins provided, and crockery and cutlery washed and packed away. All furniture and furnishings must be left in the position they were in when you arrived. The Property must be left in a clean and tidy condition.
Standard exit cleaning and rubbish removal is included in your tariff however there is an additional charge of $50 if the BBQ is not left in a clean state on your departure. The house will be cleaned for your arrival and then cleaned on your departure.
Damage, breakages, theft/loss and security is the tenants' responsibility during their stay. You must lock all doors and windows when you leave the property and it must be secured at night. You must notify us immediately of any damages, breakages or theft.  Management may deduct from your security deposit the amount required to repair or replace any items (at Management's discretion). The Owners/Management takes no responsibility for the tenant's personal property during your stay.
Responsible behaviour is expected by all guests and visitors to the property including compliance with our Disturbance and Antisocial Behaviour Terms and Conditions.  Drugs or illegal activities are strictly prohibited on the premises and alcohol should be consumed in a responsible manner.
Maintenance issues need to be advised to Management at the earliest opportunity during business hours so Management can rectify the situation quickly and efficiently. You must allow repair/service technicians access to the property during reasonable hours. Failure to follow this procedure may hinder the ability of Management to rectify the issue.  We have an After Hours Emergency Only number for our guests.
Variations to these conditions may only be made by prior arrangements with the Owner/Management in writing.  The Owner/Management reserves the right to terminate the rental at any time if any of the above conditions are not adhered to.
Thank you for reading the terms and conditions for Elite Holiday Homes.
Feel free to contact us now, we are here to help as much as possibe for you to enjoy a luxury Gold Coast Holiday Home.
Ph: +61 7 5592 3881
Reviews
Be sure to subscribe to our free online newsletter for exclusive offers and news.