We're pleased to say we have a fantastic team at Elite Holiday Homes.  Not only do they all strive to do the best job they can but they are great people and many laughs are shared – when you have a great team to work with and enjoy your job it shows and our clients benefit from that.  Our team is always focused on client service and really enjoy making sure our guests have a wonderful stay.
What's in a job title? As you can see we've all got big fancy titles but in reality everyone does a bit of everything and are always there to help each other out!
We're really proud of the great team we have and the work they do – you couldn't get a better team.
Kylie is General Manager, Guest Services – and she stars in the media for Elite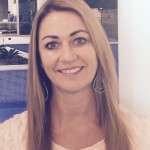 Kylie is your welcome professional – she ensures everything is ready for your arrival and welcomes you to the home.  Kylie works closely with My Holiday Concierge and can advise you on the best places to go on the Gold Coast and any local knowledge you need.
She ensures you know about the house functions and features before leaving you to enjoy your holiday.  Professional but always friendly and welcoming – our repeat guests love seeing Kylie again when they arrive at our properties – it's like catching up with a friend!
If you think she looks familiar it may be because, Kylie is our TV star, having featured on channel 7's show Australia's Best Houses for Elite.
Ange is General Manager, Reservations & Enquiries
Ange is your reservation professional  – she takes care of your enquiries and bookings before they are handed over to Kylie for your arrival.  Ange is in the office and has her finger on the pulse – her fantastic knowledge and friendly manner are perfect as she is normally your first point of contact be that via phone or email.
Ange ensures your queries are answered efficiently as we know it's important to get your quotes and availability for holidays asap!  Ange is our go to woman and often our appointed decision maker!  Anything you want to know about Netball you can also ask A
Karen is Chief Financial Officer and Guest Services Manager
Karen was our first employee and her role has changed frequently, meaning that she wears many different hats.  These days she is in charge of accounts and is also our Weekend Guest Relation Manager taking care of welcoming our guests on arrival and normally handling enquiries over the weekend as well – we like to keep her busy.
Karen loves assisting guests and making sure everything is just right for their stay and is a wealth of information having been with us since the beginning.  She also loves a chat!
Matt is CEO, of everything and anything
Every company needs a Matt as CEO! Matt manages the office and is involved in all aspects associated with Elite Holiday Homes.  Having been in hospitality all of his working life, Matt uses his knowledge of the industry to ensure we have best practices in place.
Matt overseas all areas of the business on a day to day basis and he can be helping make strategic decisions one moment then replying to your email enquiry the next – he does it all.  Matt managers the "Managers", is unfailingly cheerful and nothing seems to faze him as he always has a solution and a great sense of humour to go with it!
Cath is Guest Services Manager
Cath has worked in the industry for many years and luckily for us bought her experience to our team.  Known as  "Calming Cath" she knows how to expertly deal with any situation.  She is also highly regarded for her tea making ability should you be in the office around 3.00pm!  Don't let the facade fool you though as she also combines well with several other staff members to spice up our office parties.
Cath and Leigh job share and basically take care of anything that needs doing.
Leigh is Guest Services Manager                                                
Leigh is our latest employee to join the team and has been a great find.  Always willing to assists guests she goes above and beyond to take care of them whether that be handling their initial enquiry or meeting them at the home as they embark on a great holiday.
As a working mum – like most of the others in the office – she is an expert at juggling everything!  Cath and Leigh job share and make it work.
Our expert team of Maintenance Specialists. This is the team that keep the houses in top condition for you and take care of all the things that you don't even think of to ensure you have a relaxing holiday.
These guys keep everything ticking along nicely and they have a fantastic team of contractors that they call on for more specialised work when required.
Steve is Maintenance Guru
Steve (or more commonly known as Egg) is our main man.  Not only does he ensure the houses are ready for all our guests but he also takes care of any issues that may arise during a guest stay.  As we all know appliances can fail or issues arise that cannot be predicted and we have maintenance on call to do all they can to rectify the situation as quickly as possible for our guests.
Nathan is Assistant Maintenance Guru
Nathan is the new guy on the block. He will be joining the Steve's to do all things maintenance and make sure that your visit runs smoothly.
Nathan works tirelessly to make sure everything is ship shape in time for our guests to have a relaxing and hassle free getaway. His work behind the scenes helps make our homes the spectacular experience that they are.
My Holiday Concierge
Exclusive to Elite Holiday Homes – Bel ensures you have everything you need to make your holiday perfect and easy.  They can take care of all your fridge and pantry needs, hire items, transfers to name just a few and they have all the best deals on Theme Parks and Activities.  My Holiday Concierge help make holidays easy!  Visit www.myholidayconcierge.com.au to find out how.
But wait there's more…
We have a number of sub contractors we work with that fulfil important roles and are part of our extended team – there's Lisa down in Melbourne assisting with accounts, our great cleaning teams,  our pool man and gardeners, Luke our computer genius and of course the wonderful team at My Holiday Concierge.
Hope to see you soon.

Contact Us NOW To Enjoy A Luxury Gold Coast Holiday Home
Ph: 07 5592 3881
International: +61 7 5592 3881